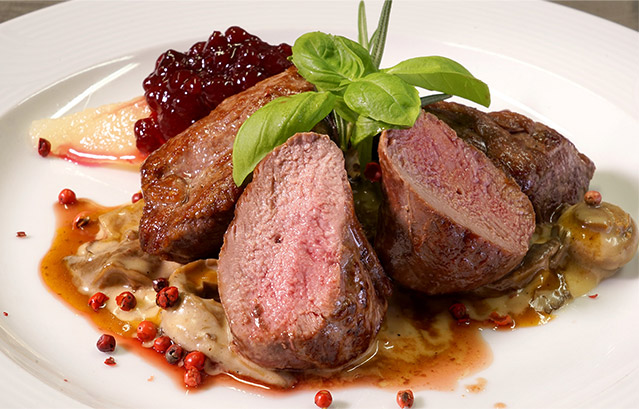 Restaurant
Enjoy the tranquil atmosphere
Our restaurant, whose lunch and evening menus change on a daily basis and in which meals are served throughout the day and evening from 11– 21 hrs, holds many delicacies in store for you..
Our produce is mainly sourced in the Rhön region. Hence, as certified by the Rhön brand initiative, we buy venison directly from local hunters, Rhön trout from fish farms in the area and beef, pork and poultry from farms in the region.
The Rhön brand initiative has awarded our hotel three Rhön thistles. This means that over 60% of the produce we serve is sourced in the Rhön region.
We look forward to welcoming you to our restaurant
Culinary delights
in and from the Rhön
Traditional quality
Every day, the Rhön Hotel Gasthof zum Biber will treat you to delicious meals prepared in our kitchen. Together with his young and dynamic team, Harald Ziegler, who is both the hotel's junior manager and its head chef, enjoys creating special culinary inventions. This modern cuisine, which also draws on traditional influences, makes for a special culinary experience.
Convince yourself by sampling our cuisine and enjoy being spoiled by the excellent service provided by our pleasant staff. Every visitor to our restaurant will experience the love and happiness characteristic of the Rhön Hotel Gasthof zum Biber.
Cosy and pleasurable
Guests can enjoy the best produce of the region as well as our own culinary inventions in our restaurant rooms with their very cosy atmosphere.
The different restaurant rooms are suitable for all types of gathering. Be it dinner for two, a family celebration, a company party or the regulars' table, there is a place and space for everyone. In the summer, guests can let the day draw to an end in our beer garden.
The Biber culinary experience
Enjoy true culinary delights in our highly traditional restaurant rooms. You will be enchanted by the dishes featuring regional cuisine we serve in a pleasant atmosphere. Food is prepared and served with careful attention to detail.
Each and every evening you can enjoy our homemade rosehip wine along with the meal of your choice, thus making a perfect end to a nice day.
We look forward to treating you to our cuisine
and would like to show you a short extract from our menu