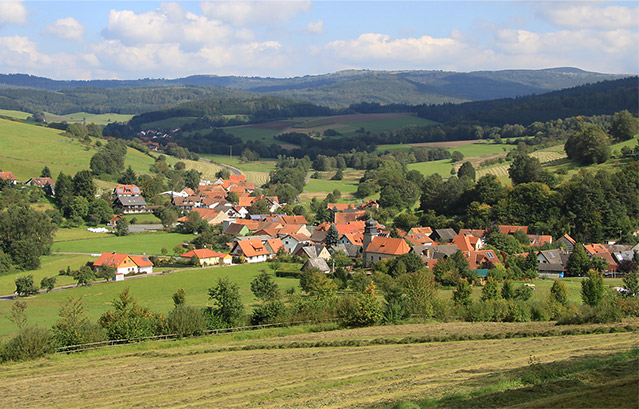 Sightseeing & excursions
From action holidays to culture breaks
Located between the federal states of Bavaria, Hesse and Thuringia, the Rhön is a wonderful region for excursions and holidays and one in which nature lovers will find peace and calm, be it on the Mottener Haube, the Kreuzberg, the Wasserkuppe, the Milseburg, the Heidelstein, the Hohe Geba or at the Red Moor (Rote Moor) or the Black Moor (Schwarze Moor). Throughout the year, the Rhön offers opportunities for activities of all kinds ranging from hiking and cycling in summer to downhill or cross-country skiing in winter. The needs of guests interested in enjoying the region's culture and visiting its sights will be fully satisfied, for towns such as Fulda, Bad Kissingen, Steinau an der Straße odor Meiningen are not far away.
There is much to discover in the Rhön and surroundings. Enjoy your holiday in our region and use our hotel as the starting point for your excursions.
Enjoy the Rhön
in all its diversity
Eventful holidays
Action holiday
Whether you decide to go hiking on the "Der Mottener Extra Tour" or to explore different educational and nature trails, cycle paths, mountain bike tours or Nordic walking routes, you can get started right outside our hotel. Being in Bavaria which is famous for its spas, the needs of spa lovers will also be fully satisfied. With regard to winter sports, downhill and cross-country ski runs are only a short distance away, as are the tobogganing and the ice skating rink.
Further details and much more can be found on the rhoenfuehrer.de website.
Culture?
The Rhön has many attractions for those interested in culture. Ranging from history tours, musicals, events staged in a baroque setting in Fulda, open air concerts with a regal feel in Bad Kissingen to the theatre town of Meiningen, there is something for everyone.
You can also explore the educational trails embedded in the magnificent countryside or visit places of historical/cultural interest in the Rhön, such as Point Alpha and a variety of museums and important buildings from different eras.
Further details and much more can be found on the https://www.rhoenfuehrer.de/ website.
We look forward to welcoming you at our hotel
things you can do here in the region.